Tailored commercial real estate solutions for entrepreneurs in Chicago and beyond.
Unlike a broker, we represent you and you only. This frees us to advance and protect your interests without conflict or complexity. 

We're advocates, partners, and advisors to entrepreneurs who recognize that their real estate investment is a down payment on their culture, and that their culture is the soul of their business.
Brokers say they have your best interest in mind. But behind the scenes, many brokers are entangled with – and beholden to – large commercial landlords. We're different.
We help entrepreneurs find a commercial real estate home for their company that is perfectly tailored to their culture, financial goals, and vision for the future.
Expert management of purchases and sales of real estate assets in order to obtain the most favorable outcomes. more
See how we create the best fit for clients across a wide range of space types and industry verticals.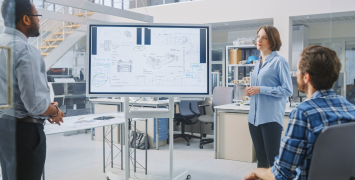 MedPro was ready for a new space, and the Bespoke team knew exactly where to look, taking advantage of an uncertain market and negotiating a deal that was over 50% less than the building's asking rental rate.
Shift7 wanted to test out a hybrid office model that prioritized collaboration. Our team negotiated excellent terms on a short-term sublease space in the West Loop, enabling the client to reduce office overhead costs by 50%.
To help you find the ideal space, we created a downloadable guide to finding the perfect real estate fit.
Bespoke assisted us with our office relocation and new lease in Deerfield. This was a significant expansion in terms of space and amenities. Bespoke did an exceptional job on all aspects of our move – from new lease negotiations to exiting the old lease and bringing external vendors to the table. We moved into the new space last week and it's an absolute home run that has thrilled and energized our entire team."
Ed Fiorentino CEO
TerSera Therapeutics